The Santa Rosa Junior College Office of Institutional Effectiveness, Research and Planning (IERP) is tasked with conducting surveys for both the college and the State Chancellor's office. IERP runs various types of surveys for SRJC. These include the district-wide Student Survey conducted every three years, used in both the accreditation process and in tracking Students' experiences over the long term.  Other surveys are conducted by request by various departments, and have been created for faculty, staff, and management alike. If you have a survey you would like IERP to conduct for you, visit the Submit a Ticket link to submit your request.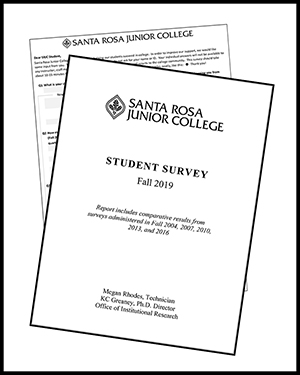 Student Survey
This important longitudinal survey gathers data used for accreditation, grants, and understanding the shifts of SRJC students over time. Visit the 2022 Student Survey page for more information.
The SRJC Student Survey is conducted every three years to assess long term changes in our student population. Started in 2001, it is a paper survey distributed anonymously to 10% of the student population in in-person classes, and includes demographic and experience questions. Last conducted in 2019, the questions are kept as consistent as possible to allow for multi-year analyses. Below are the last four years of the survey instrument and accompanying reports. For previous years' surveys, please contact IERP. The 2022 Student Survey results will be coming soon. 
SRJC has both participated in and administered this statewide survey for the California Community College Chancellor's Office. View reports for SRJC and California state. More information about CTEOS at cteos.santarosa.edu.
The Instructional Modality Survey was administered to all currently enrolled students in Spring 2022. It aimed to understand the instructional modality preferences and impacts on course enrollment. 
Sent in Fall 2020 to assess students' experiences with the major events of 2020 (i.e. the COVID-19 pandemic, the Elections, Wildfires, and Racial Justice Movement). The results were compiled into a professional development presentation and visualization.